Captrate Combo Filters -Multi Stage Filtration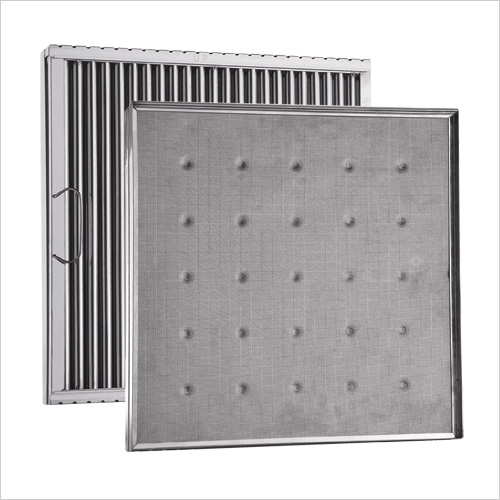 The Captrate® Combo Filters uses the latest technology in multi-stage grease
filtration, delivering unparalleled efficiency for restaurant hood systems
Features at a Glance
• Reduced Grease Emissions. High Grease Capture Rate Results in Cleaner Ventilation Hoods, Ductwork, Exhaust Fans, Rooftops, and Exterior Surfaces. • Improved Fire Safety. Grease-Stop® Combo™ Filters Provide Superior Flame
Resistance, Along with Significantly Reduced Grease Build- Up in Hoods, Ducts, and Fire System Components, Which Means Less Fuel in the Event of a Fire.
• Improved System Maintenance. Less Grease Build-Up in Hoods, Ducts, Fans, and Rooftops Enhances Overall System Performance, While Saving Time, Money, and Reduced Frequency of System Cleaning and Maintenance.
• Innovative Design and Standard Sizes. Innovative Design Allows for Easy Removal and Cleaning. Grease- Stop® Combo™ Filters Are Available in Standard Sizes, Ideal for New Projects, and Can Be Retrofitted with Many Existing Hood Systems.
Product Overview
The Captrate® Combo Filter uses the latest technology in multi-stage grease filtration, delivering unparalleled efficiency for restaurant hood systems. The first stage consists of an optimized S-baffle designed to remove and drain the larger grease particles. The second stage features a packed-bed of porous ceramic media, designed to capture the smaller grease particles associated with commercial cooking. The combined result is a front-end filtration solution delivering unparalleled grease removal efficiency for restaurant hood systems. The Captrate® Combo Filter is available for new kitchen hoods and can also be retrofitted into most existing ventilation systems. It will substantially reduce cleaning, maintenance cycles and attendant expenses, providing greater overall cost saving than other grease capture devices or systems on the market today.