Model DW - Factory Welded Grease Duct System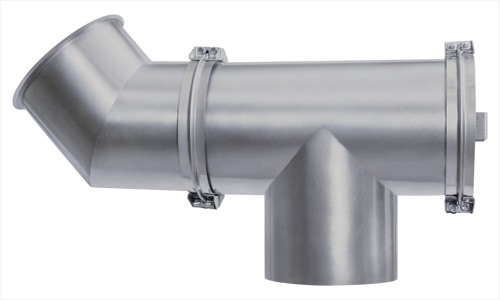 GreaseMaster's Factory Welded Grease Duct System
Features at a Glance
ETL Listed to UL standard number UL-1978.
Duct and duct accessories are constructed out of 20 gauge 430 stainless steel.
Multiple accessories
Diameters range from 8" to 24"
Duct lengths for 8" and 10" diameters are 24", 30", & 48"
Duct lengths for 12" through 24" diameters are 24", 30", 48", & 60"
Duct and duct accessory connections have been optimized for ease of assembly
Connections are made using a universal "V" clamp
Joints to be sealed using 3M Fire Barrier 2000+
Transition plates available for duct termination at the curb
Transition plates and collars designed to overcome slight misalignments
Proven duct hanging system
Submittals and duct CAD files
Product Overview
Grease Duct is ETL Listed, single wall construction made from 430 stainless steel. Duct diameters range from 8" to 24", with multiple lengths and accessories available. Grease duct is ideal for use in kitchen ventilation applications where clearance to combustibles and temperature retention in the duct is not a factor. Duct system(s) are available as a stand-alone system, or as part of a fully integrated package, and are pre-engineered for optimum performance for exhaust fans and hoods. Grease ductis ETL listed to standard UL-1978,and does not have to be welded in the field.
The DW Series has been certified by ITS. This certification mark indicates that the product has been tested to and has met the minimum requirement sofa widely recognized (consensus) U.S. products safety standard, that the manufacturing site has been audited, and that the applicant has agreed to a program of periodic factory follow-upinspections to verify continued performance.
Benefits
System can be used as a stand-alone duct system that can be integrated into a kitchen application.
System can be used as part of a fully integrated packaged designed and pre-engineered for optimum performance with kitchen ventilation equipment.
Duct systems that are part of an integrated system reduce the amount of rework and service calls.
Non-welded duct saves on installation costs.
Duct accessories and duct lengths have been designed so there is no cutting of duct in the field.
Single source for equipment and duct.
Reduced coordination and shipping costs due to single source supplier.
Duct is manufactured on state of the art equipment.
Duct and duct / accessories go through a robust quality control check making sure you get the very best product every time.
Duct has been rigorously tested to comply with ETL.
Grease duct is ETL listed to standard number UL-1978, duct does not have to be welded in the field.
Resources