GMDR-H - Centrifugal Downblast Fans: Direct Drive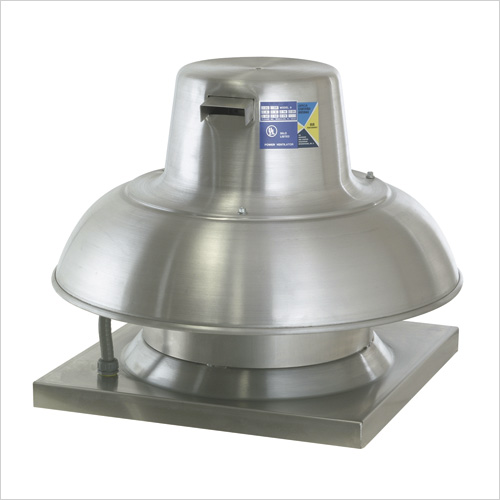 Air Volume: 51 - 3395 CFM
Maximum SP: 2.47" wg. standard air density
Product Overview
Centrifugal Direct Drive Fans are designed to pull more air under higher static pressures. The efficient, balanced wheel and air inlet design contribute to maintaining low noise levels and extended motor life. These fans are especially suited for installation in hospitals, schools, motels and hotels, auditoriums, office buildings and light industrial areas.
Features & Benefits
• Spun aluminum housing for rust-free, weather resistant durability
• Standard bird screen
• Non overloading backward inclined wheels, blades and inlets fabricated from 1100-H14 aluminum
• All sizes can be wall mounted
• Wire conduit to provide a clear channel for electrical connections
• Safety Disconnect
• Variable speed control
Options
• Gravity Damper
• Motorized Damper
• Wall Mount Sleeve
• Roof Curb
Certifications
Greasemaster certifies that Model GMDR10-H thru GMDR85-H shown herein are licensed to bear the AMCA seal. The ratings shown are based on tests & procedures in accordance with AMCA Publication 211 and Publication 311, and comply with the requirements of the AMCA Certified Rating Program. Models GMDR10-H thru GMDR85-H are ETL Listed under file number 3049729-002 and comply with UL705 (electrical) Standards and CSA Std C22.2, No 113.