Self-Cleaning Hood System - Fully Automatic Operation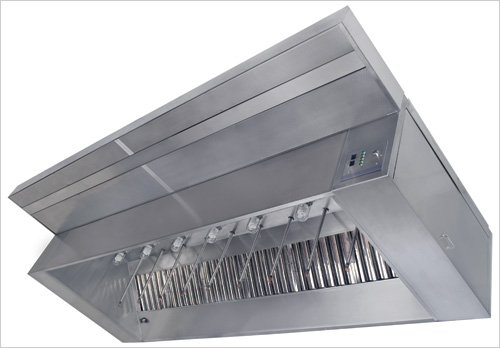 GreaseMaster's Self-Cleaning Hood System automatically cleans
the hood plenum after the day's cooking is completed.
Features at a Glance
• ETL and ETL Sanitation Listed Product
• Fully Automatic Operation
• Hood Fabricated from 100% Stainless Steel
• Drip-Less Nozzles with Internal Strainers
• Easily Serviceable
• Adjustable Surfactant Injection Timing and Volume (Factory Set for 1 Second Injection with 1 Minute Delay)
• Adjustable Wash Length (Factory-Set at 3 Minutes)
• Standard Riser Spray Nozzle for Duct Cleaning
• Water Wash Usage is 0.7 GPM Per Foot of Hood
• Available EMS Control Package to Reduce Fan Loads During Idle Periods
• Installed in Utility Cabinet for Easy Start-Up
• 100% Stainless Steel Filters
• Reduced Fire Hazard Risk in Hood and Duct
Product Overview
The Fully Integrated Self-Cleaning Hood System helps keep your kitchen ventilation system clean with maximum grease extraction efficiency. The system is available with hot water wash integrated into GreaseMaster 's premier canopy style GSN-2 and GSD-2 hood lines.
The hot water wash system automatically cleans the hood plenum after the day's cooking is completed. Washing the hood plenum with surfactant (surface-active agent that reduces the surface tension between the grease and water allowing the water to dissolve the grease) while the hood is hot considerably increases cleaning effectiveness. The added riser sprayer also drastically reduces the need for grease duct and hood cleaning. Timing for both the surfactant and wash length is programmable to meet your specific needs.
Available Models
• W1 = Hot Water Wash
• W2 = Cold Water Mist
• W3 = Cold Water Mist and Hot Water Wash
• W1REMOTE, Adds an additional 16' of hood for the Hot Water Wash.
• W2REMOTE, Adds an additional 16' of hood for the Cold Water Mist.
• W3REMOTE, Adds an additional 16' of hood for the Hot Water Wash and Cold Water Mist.
Self-Cleaning Hood System Specifications
Description
Furnish Type 1 exhaust hood with factory installed spray and manifold assembly. Assemblies shall be ETL listed to conform to UL710, ULC710, and UL508A.
Construction
Hood shall be constructed of 100% Stainless steel, either 304 or 430. All welds in plenum shall be dye penetrate tested for leaks.
All plumbing shall be standard brass pipe fittings except for penetrations, which shall be stainless steel. All nozzles shall be wide angle full cone with internal strainer and pressure sensitive check valve. Water inlet shall be 3/4" NPT pipe fitting. Drain shall consist of one 1 1/2" NPT pipe, unless exhaust hood is over 12' long or 30" tall which two drains shall be installed. A ball valve shall be installed with the manifold for servicing the water wash system.
All detergent injection shall be done after a vacuum breaker backflow prevention valve. Timers shall be factory set for the following parameters, wash length set for 3 minutes, detergent injection set for 1 second injection before a delay of 1 minute.
Sectional View